Tyler went surfing at Mondos. He had a blast!
While he surfed, I painted a few of the kids on the beach in front of me.
It was a fun day.
---
INFLUENCES
There is an exhibition of some of the body of work of Joaquin Sorolla, who has long been among my favorite artists. I never learned about him in school. Frankly my art education was rather dismal. I learned of Sorolla's work after I began taking classes from
John Paul Thornton
at Mission Renaissance about 12 years ago. John Paul taught me the basics -- drawing, values, and oil and helped me learn to love painting and art history. I owe him an immense debt of gratitude.
If possible, I plan to go several times to see this wonderful exhibit down in San Diego. Sorolla's work is an inspiration to me. Joaquin Sorolla's work is masterful in catching light and color and freshness. It is joyful, enriching and influential.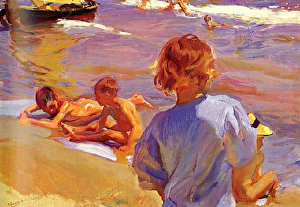 Children On The Beach 1917
Sorolla and America
Now through August 26, 2014
The story of
Sorolla and Americ
a begins in 1893, with
Joaquín Sorolla y Bastida
's prize-winning submission to the World's Columbian Exhibition in Chicago.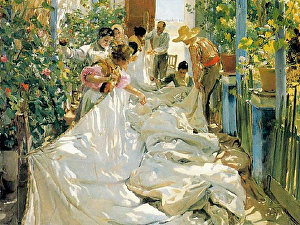 Sewing The Sail 1896
Many of my favorite artists were influenced by Sorolla and I have been too. Those that immediately come to mind are John Asaro and Dan McCaw's early work. Here are some examples:
On the left is
"Watchful Eye"
by Dan McCaw
On the right is
"Sisters"
by John Asaro
Both of these artists have moved on and are exploring somewhat different styles, but it is clear that Sorolla's work tremendously influenced both artists.
And I am hoping all three will influence me. I know I was thinking of their work as I did my plein air sketch at Mondos. I was there watching Tyler on his first attempt at surfing. He did a GREAT job. I am hoping to go back and paint at the beach again... always with the beautiful work of Sorolla in my mind and heart.
I enjoyed painting Tyler and his friends at the beach a while back. (It was called
"Boys At The Beach"
) Perhaps after I've done several plein air sketches like this one and the other one, I'll try a studio piece with Asaro, McCaw and Sorolla as my muses.
Comment on or Share this Article >>