Mugu 10"x8" O/C panel
When you think about change is it a positive or a negative?
I've been thinking about change for a while. Actually I guess all growth is change and I am truly trying to grow in my ability to convey feelings, thoughts and a sense of place when I paint. I want to engage the viewer around more than a scene.... I want the viewer to think about pattern and mystery and texture and wonder.
But generally I do like the comfort of regularity, of pattern, of knowing what to expect when I turn a corner.
Change isn't comfortable. It's difficult and sometimes threatening. Change is challenging.
But if we never change, if we never learn a new way of seeing or doing, we risk becoming boring, passe', out of touch.
Slow change
For many reasons, I'm slow to change. I am slow to accept those avant-guard artists' work, but have found the search interesting and know that as I view more and more different types of art, my own work will in some ways grow and change. I don't want to change just to be different.. Hopefully as my work continues to develop, I will also grow to become more satisfied with it. --( Although not so satisfied that I end up creating work that is "the same" over and over.)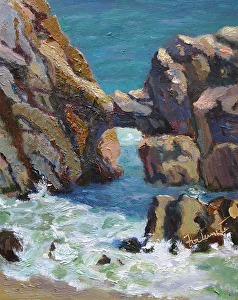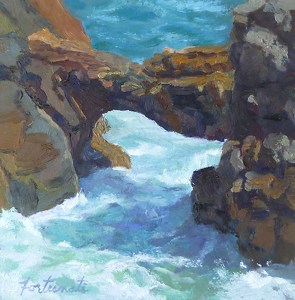 A surprise change
Yesterday I decided to go outside to paint. I have been inside too long since returning from the Sierras. Studio work is fine, but my real joy is getting outside to smell the smells and see the sights. I was daydreaming on the freeway and passed my usual turn off for the beach. So since I had recently visited Pt. Mugu Naval Base for their air show, I decided to head in that direction. Several years back I had hiked behind the "rock" at Pt. Mugu and discovered a delightful sea arch. I wanted to visit it again.
I hiked past the "no trespassing" signs.... (The old road which had once been on the ocean side of Pt. Mugu was blocked off because part had fallen into the ocean ... making it not such a good way to drive past the famous rock formation.) I walked to where I had sat and painted several years ago and was shocked to see that the beautiful arch was no longer there!
The relentless waves had finally cut away at the rocky arch and the formidable rocks weren't up to the challenge. Mugu Arch was no longer. A close look over the cliff revealed a wonderful rock waterspout or marine geyser. I was mesmerized.

Even though it was still pretty, I didn't have the heart to stay and paint. My arch was gone.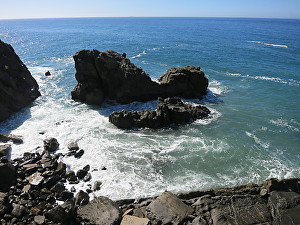 You can compare my two sketches from a few years ago with the photo I took yesterday.
Yes, change is inevitable ... and not always what we expect. But I think that change is also life-affirming. What do you think?